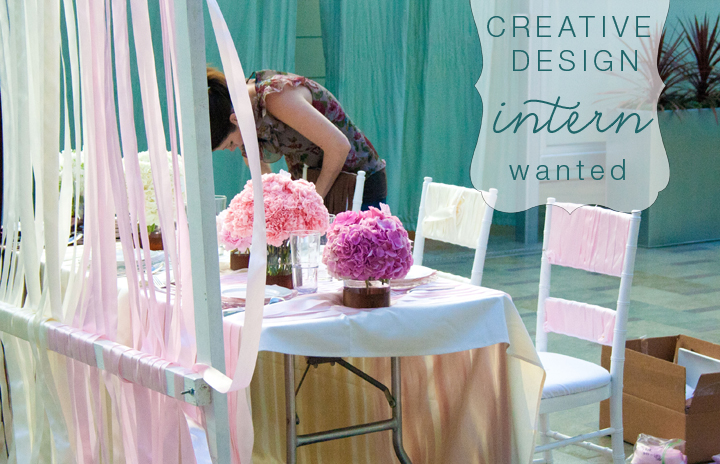 Creative Design Intern Needed for a Design Internship in Orange County!
We are looking for a friendly and easy-going intern who is able to learn quickly, work independently; is detail oriented and is also very interested in the wedding industry, photography, social media & marketing.
This is a perfect job for a student who seeks an internship with a smaller amount of hours during the school year, and more work in the summer.  This is a 3-6 month unpaid internship with lots of opportunity to gain a wealth of experience and connections, and may lead to a hired position.   Hours are flexible, approx. 10-15 hours per week for school credit if necessary.
You will be working on various projects ranging from company collateral to invitations & branding.  We're looking for a creative person, preferably a student, who has a keen eye for style and design, and who loves crafty projects, pretty flowers, weddings, photography and the like. In this position, interns will be exposed to a variety of tasks and will gain experience in a broad range of graphic art skills, including typography, layout, photography, web design principles and branding awareness.
Skills & Requirements
• Self-motivated
• Willing to learn – Self-Starter, takes the lead but is a great listener
• Good communication skills (both written + verbal)
• Great attention to detail
• Proficiency in Adobe Illustrator, Photoshop and InDesign in a PC environment (sorry, no MAC!)
• A familiarity with Hootsuite, Twitter, Facebook, Pinterest and other social mediums a plus
• Web knowledge, including an understanding of Dreamweaver, Blogger or WordPress a plus
• Photography & editing experience a plus
• A design aesthetic which complements our work
• Well-organized – Great organization skills, willing to work with company file management
• Must be reliable, efficient, detail-oriented, thorough, work well under deadlines.
Responsibilities may include:
• Assisting our designer on client design projects (corporate, social and lots of weddings!)
• Working independently on studio projects
• Researching
• Creating web graphics and banners
• Pre-press work (preparing files, separating colors, etc.)
• Finishing (punching, cutting, packing stationery)
• Social Media updates to Facebook, Twitter, Instagram, etc.
• Blog graphics and updates on WordPress
This position is great for a design student, we are within walking distance of Golden West College.   Coastline, Orange Coast College and Cal State Long Beach are all very close by. We are anticipating 10-15 hours/week now, and the days & hours can be customized with the right candidate. But we will be seeking a candidate able to offer more availability during the summer months. The position is near Huntington Beach at our home studio, so you must be comfortable working in our home office/workshop, and must be comfortable with small pets and kids around on occasion!
To apply, email intern@cherishpaperie.com. Email a short summary about yourself explaining why you want to intern with us and any applicable experience you have (courses, scrapbooking, photography, other hobbies) Please include your availability, and indicate if you are looking for college credits.
A formal resume is not necessary, but including samples or photos of some of your work or hobbies is appreciated.  Please provide a link to your blog, website, or portfolio work samples for us to review (that you think match our design atheistic)  and an (optional) inspiration board that showcases your personal style.
We look forward to hearing from you!