The new Envelopments colors of 2013 are here and we hope you love them as much as we do! This new selection was not only able to bridge some of the gaps Envelopments had in their color offerings, but more importantly introduce shades and tones that we have never had before!
New Envelopments Colors of 2013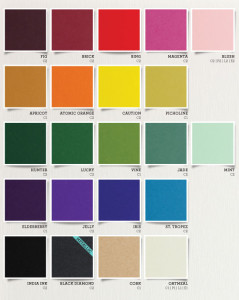 We know you will appreciate the replacements for a few "retired" stocks that were recently laid to rest:
BLUSH replaces BALLET
ELDERBERRY replaces IMPERIAL
PICHOLINE replaces BAMBOO
APRICOT replaces KUMQUAT
INDIA INK replaces BLACK
BRICK replaces KIMONO RED
We are also excited to bring you "Fiore": A modern, hand painted Florentine pattern that is Envelopments latest collaboration with the talented artist; Kristy Rice.

*The Fiore collection will be available to order on February 18th
This is just the beginning of what will be a very exciting 2013.You can find all of the colors offered in our Envelopments line on our website here.
Watch for more Envelopments news coming soon! Questions? Email us at info@cherishpaperie.com for more information!