Our beautiful new stationery company
website is LIVE!
Welcome to the new cherishpaperie.com!
As a wedding stationery design studio, we love to design pretty paper things. But we found that what we also needed was a beautiful wedding company website that was up-to-date with current trends and technologies. If you follow us on Twitter you've probably seen that we've been getting ready to launch the new and improved CherishPaperie.com for quite some time. Well, we're excited to announce that our hard work has paid off and the big day is finally here!
Here are some of the new features we're excited about: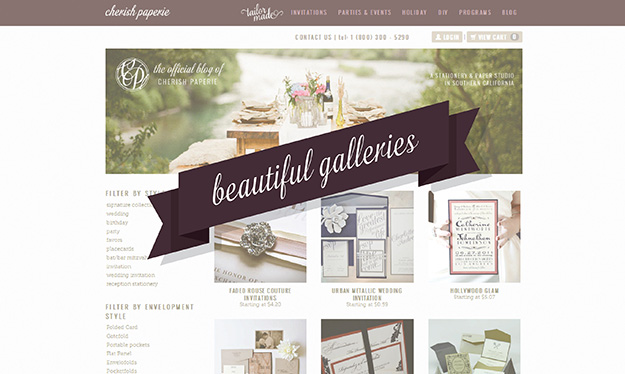 What started as a logo redesign in the summer of 2012 turned into a full-scale company rebrand. We're immensely proud of how far we've come and we hope you get a chance to take a look around, browse our galleries, and enjoy the ease of navigating our new site!
Certain parts of our website may still be under construction and we are still adding photos to the galleries. Please let us know if you saw a product in our old gallery, but can't find the item in our new galleries yet, and we will be sure to add it as quickly as possible for you!  And of course, if you catch any bugs or have any suggestions, we'd love for you to let us know!