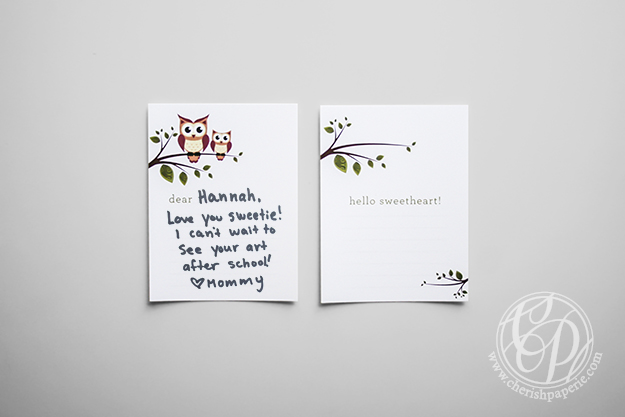 Summer is ending and the kids are heading back to school. And for most that means packing up their back packs, making their lunches, and preparing for the first few days of a new routine.
Sometimes the beginning of a school year can be a bit stressful, and because our last Free Printable was so popular, we're at it again! We've designed these Back to School DIY Notecards, perfect for slipping on desks or in lunchboxes to share a smile with your child throughout the day. We know you'll be Back -to-Busy too, so we made sure this DIY project really IS as easy as one, two, three!
We haven't forgotten your big kids either! We may not always show it, but us "big kids" (college kids too!) secretly love encouraging words from parents. No matter the age, a little note goes a long way, which is why we've included four templates: for your little girls and boys, and for your big girls and boys too!
Back to School DIY Notecards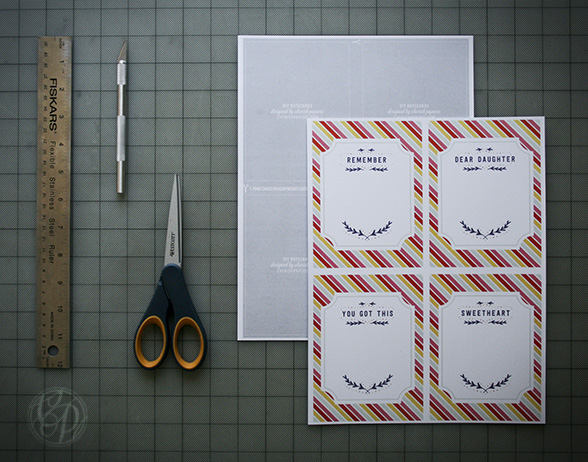 WHAT YOU'LL NEED:
STEP ONE // PRINTING
Download one of our four templates listed above and open it up in Adobe Reader (if you don't have Reader, you can download it here.) Once open, print the document on a heavyweight card stock of your choice. If you are unfamiliar with how to print a two-sided document, Adobe has created a useful guide for double-sided printing. Even if your printer only supports one-sided printing, you can still manually print two sides by printing and then reloading the paper upside down. Print as many sheets as you want. One sheet will make four cards.
STEP TWO // CUTTING
Using either scissors or an X-Acto knife or other craft knife, cut along all the dotted lines that are on the back side of the notecards. An X-Acto knife will give a more precise cut, however, if you decide to use an X-Acto please be sure to follow our safety tips below.
X-Acto Safety Tips:
Always cut on a self healing cutting mat to protect your work surface. These can be purchased at craft stores like Joann's or Michaels, or any other art supply store.
Always use a metal ruler with a cork or foam backing. The ruler helps you achieve a straight cut and the cork backing prevents the ruler from slipping. Line up the ruler along the dotted line, and follow the edge of the ruler with your blade. Make sure your fingertips are not hanging over the edge of the ruler!
Make sure the X-Acto blade is fresh and sharp. Dull blades can slip or "jump" while cutting, which could cause injury. Plus, sharp blades give a cleaner cut!
Do not force the blade to cut through the paper entirely on the first pass. Some thicker card stocks may require you to cut two or three times along the same line.
STEP THREE // WRITE A NOTE!
It's really that easy! Just deliver the note to deliver a smile!



Did you give it a try?
We'd love to see your pics of your Back to School DIY notecards! Instagram or Tweet us at @cherishpaperie and share the smiles with us as well!