The biggest concern of your wedding shouldn't be chicken or beef. But when it comes to pleasing guests and assuring that someone with a specific diet is taken care of, the wedding place cards meal selection indicator should be a factor in planning your wedding stationery.
There are a few things to consider when you decide how to label your place cards with the meal selection your guests have made. And that first starts with your RSVP cards.
When asking your guests to select a choice for their meal remember these great tips:
Make sure there's enough room for each guest RSVPing to indicate what they want or write it out for them
Ask each guest to initial their choice so you can note it on their placecard
Leave a little space for guests to list any dietary restrictions (just in case your favorite dish contains peanuts, etc)
Designing Your Wedding Place Cards with Dinner Selection In Mind
Once you've sent out your invites and start receiving RSVPs it's great to note the meal selection of your guests on your master RSVP list so you don't accidentally put one person down for the wrong meal.
As you design your place cards for your reception you should think about two things:
What you'll use to symbolize your guest's dinner choice – see below for our ideas!
Where the choice will be placed – the top right corner is the most visible if using an icon or writing for a dinner selection
There are a number of ways to indicate a meal choice.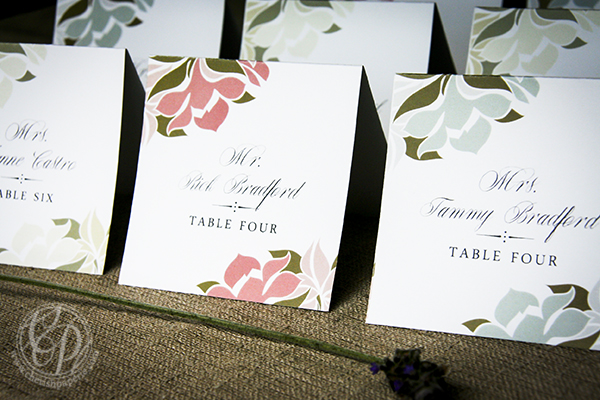 1. Color Coded
You can simply designate a color coded chart so that the servers at your wedding know that blue is chicken and green is vegetarian. These color selections can not only match your wedding colors but will flow seamlessly from your other reception stationery.

2. Icons
Perhaps one of the cuter ways to indicate your guests meal choice selection is to use an icon on your place cards. By simply adding a cow, pig, fish, etc to the top right section of your card the servers will easily see what your guest has requested for their meal.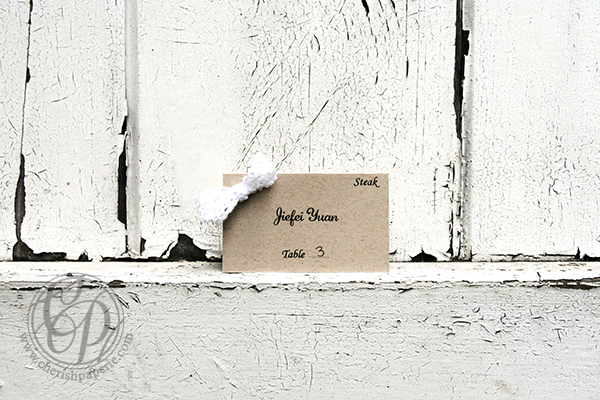 3. Write it Out
If you included the exact meal option you're offering on your RSVP card it might be best to write out your selection. For example, if you are having filet mignon and rosemary chicken each place card will simply state "filet mignon" or "rosemary chicken" on the card.
There's no misinterpreting that!
 What are you serving for dinner at your wedding?